Who We Are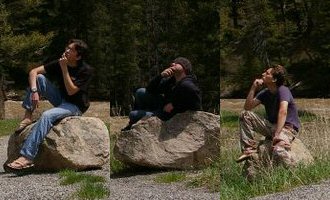 Thirsty Dog was started by three amigos who shared an interest in film-making. These are their stories.
Clint Blizzard

Writer
Director
Everything Else

Clint was writing things from the womb. Eventually, he was conned into taking part in making movies, so he has since acted like an actor and contributed his writing to the glorious cause.

He's also the guy often responsible for assisting with camera, lighting, and audio.

Jon Wieberg

Unleashed upon the world on 12/19/1987

Writer
Director
Everything Else

Jon's slight obsession with film-making started from the early age of 13. It was during this time that Kyle, Clint, and Jon started experimenting with film making. One of their earliest goals was to make a full-length feature based on the Star Wars Saga. They worked hard and long to create Star Wars Episode 7: Rise of the new Empire. It took nearly four years for them to realize that they weren't quite ready to take on such a challenging film, and so they moved on. Though none of them had any ideas for what else to do, those early days of experimental film making really influenced Jon and kept him interested in the possibility of making another movie at some point in the future.

It would be several years before Clint would approach Jon about doing a film called "Things You Might Not Expect". Jon was, of course, entirely way too happy about this and agreed to it immediately. This film would still not be finished in its entirety, but it was completed enough to be released as The Truth About Scientology.

It would take just six months for the next film to come down the pipeline. This one would be called "A Really Stupid Movie We Made" (which would be the kick-off for the Scarial Killer Saga). From this point on, film making was a fairly major part of Jon's life. To this day, he continues to write, produce, act, and crew in many films made by both Thirsty Dog Productions and other film making groups in the surrounding areas.

Kyle Blizzard

Editor
Director
Everything Else

Kyle was born. We still don't know what he is. He has a black belt in slacking and a mauve belt in making slag up.

He's the guy responsible for most of the camera work and editing. He did manage to write Curse Return of the Scarial Killer and some of Another Really Stupid Movie We Made, but he usually leaves that task up to the other two guys.
In addition, Thirsty Dog has collaborated with the likes of Dahlonega film-maker Matt Nielsen of Cool Hat Media on various projects, including SG&C: Adventurers for Hire, and Jasper film-maker Dave R. Watkins on The Lumber Baron of Jasper County.