The Scarial Killer Saga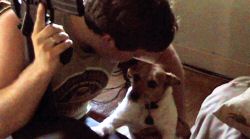 The saga began as an unscripted, spontaneous desire to make a movie at any cost. The cost was great, but the movie was made. The story was loosely developed later and the Scarial Killer universe was born.
Set ambiguously on the planet Meeriad in the Daireem universe, it begins with an average denizen vegging out in front of the TV when the local news station reports a disturbing incident. The infamous Scary Serial Killer escaped from a maximum-security prison the previous night and is out for blood. Occult legend has it that a curse was passed onto him, condemning him to a life of wandering the planet in search of his next victim.
See the latest installment, Return of the Scarial Killer, on YouTube or a Scary-Scary Chronology for a full list of movies in the series.